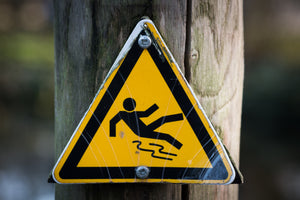 Are Matt Tiles Really Non-Slip?
 The Best Finish for your Bathroom
We often deal with customers whose souls have been crushed because they wanted a certain look for their bathrooms, but they were recommended against using polished porcelain tiles.

So we have decided to, for once and for all, finally bust one big myth:
"Matt tiles are more non-slip resistant than polished tiles"
It's simply not true.
The fact of the matter is that:
The chances of slipping on a matt tile versus a polished tile are extremely similar!
Most people think that matt floors are the solution for a bathroom floor, but the truth is, unless the tile has some sort of texture, it truly doesn't matter.
Are Non-Slip Tiles The Answer?
You can use a specifically non-slip tile, as you would around the pool, but we wouldn't recommend it. While those surfaces are great outdoors, they have proven to be much harder to clean indoors due to the very rough finish.
So what's the solution?
Use a bathmat when getting out the shower or bath, to prevent any unexpected slips
Don't run around playing catch if you're sopping wet
Clean up any excess water
Use a Non-Slip Spray
Using a non-slip spray is a great idea - it's actually like magic! The spray doesn't change the look or feel of the tile when dry, but when the tile is wet, there is traction preventing any slipping!   
It would be a shame to defy your bathroom of polished floors in fear of slipping. Shiny tiles bring a different look to the space, and if that's the look you want – don't compromise!
---